Bake A Batch Of These Cinnamon Roll Cookies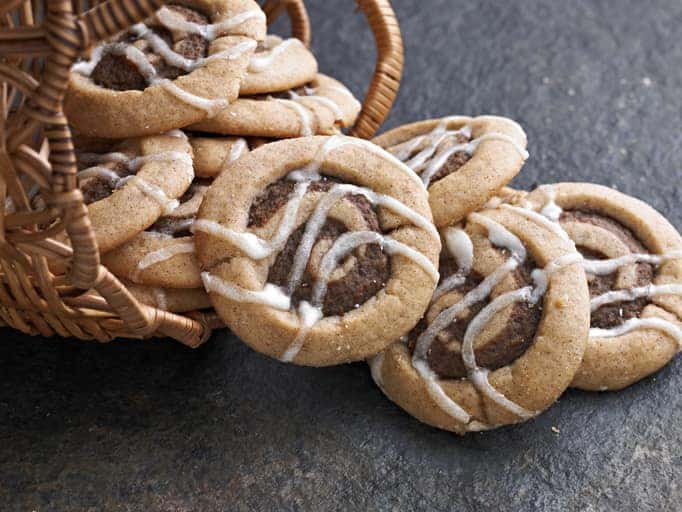 Fall is here which means there is a chill in the air and a need for food that will leave you feeling cozy. Cinnamon rolls bring a comfy, cozy feeling, and cookies are so nostalgic and less messy. How can you choose? I have good news for you, the Food Charlatan has you covered with these cinnamon roll cookies! They are the perfect mix between cinnamon roll and cookie, great for a cozy fall day.
Ingredients
Baking begins by gathering ingredients. For the cinnamon roll filling, you will need six tablespoons of softened salted butter, ¾ cup of packed brown sugar, and one and ½ tablespoons of cinnamon.
For your dough, gather one cup of salted butter, one and ⅔ cups of granulated sugar, two large eggs, two teaspoons of vanilla extract, three and ½ cups of spooned and leveled flour, one teaspoon of kosher salt, and one and ½ teaspoons cream of tartar.
Finally, for rolling, you will need ⅓ cup of granulated sugar as well as 1 and ½ tablespoons of cinnamon.
Tips and Tricks
When mixing the filling into the dough, use a wooden spoon to avoid breaking the filling into chunks.
If you want pretty, round cookies, take some spoons and shape the cookies to perfection.
How to Make the Cookies
Begin by making your filling, either in a large bowl or stand mixer, add six tablespoons of softened butter, beating until creamy. Then add your brown sugar and cinnamon, beating and scraping the sides until smooth. Line the sheet tray with parchment paper and scoop out even, marble-sized balls on the pan. Freeze for 20 minutes.
Preheat the oven to 350 degrees Fahrenheit and prepare the rest of your filling.
Then, start making your dough by beating one cup of butter in the same bowl or stand mixer, until smooth. Add your sugar, beating in until light and fluffy. Add in eggs and vanilla extract, mixing until homogenous. Add your flour and then using a spoon to stir, add in your dry ingredients. Then beat until the flour streaks are gone.
After the filling is hard, mix it into the dough and use a cookie scooper to get larger cookies. Roll the cookies in your cinnamon sugar mixture and place them on the cookie sheet. Bake in the oven for 11 to 12 minutes, allowing them to rest for five minutes.
You might also like: The Ultimate Fall Movie List
Freezing Cookies
If you want to keep a few of these delicious cookies on hand, you can make the dough and roll the cookies in the cinnamon sugar and freeze them for up to three months. Do not bother thawing the cookies out when you are ready for them, place them in the oven and add a few more minutes then for fresh cookies.
Disclaimer: The stock image is being used for illustrative purposes only, and it is not a direct representation of the business, recipe, or activity listed. Any person depicted in the stock image is a model.