Certified Windshield Replacement Services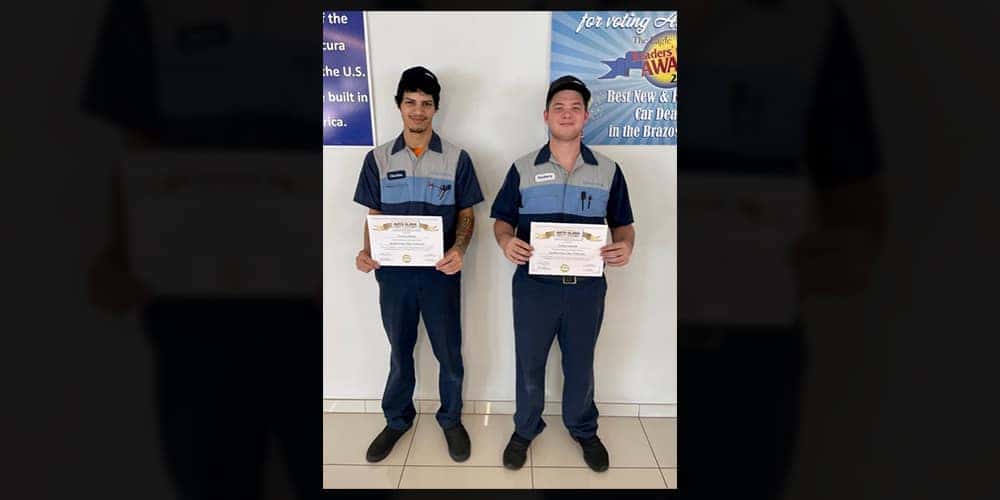 ---
Are you in need of window replacement near Bryan? If so, Allen Honda offers certified window replacement at our Honda service department. All windshield installers are Honda certified and have access to state-of-the-art equipment. We can even re-calibrate any cameras embedded in your old windshields. Take a moment to learn about the reasons you should head to College Station and get your windshield replaced at Allen Honda. Then, contact us to book your appointment! 
Why Replace Your Windshield at Allen Honda? 
Many College Station dealers perform windshield replacement. At Allen Honda, however, we're able to reinstall cameras inside windshields, and we offer both aftermarket and OEM options. We also offer a number of other perks. Let's take a look at why Allen Honda is the natural choice for windshield replacement: 
All of our installers are certified.

We provide free pick-up and delivery.

Our work is performed in a well-lit, climate-controlled building. 

We work with all insurance companies.

We honor any extended warranties, regardless of the company. 

We can work on any make or model. 

We offer both OEM options from the factory and aftermarket alternatives. 

We have factory software for camera calibration.

Most of our windshields are available the next day. 

We have state-of-the-art tools and equipment.

All work is guaranteed. 

We offer competitive pricing.  
Other Benefits of Working With Allen Honda 
You can rest assured that our certified Honda mechanics will get the job done effectively, affordably, and efficiently. Our service specials make taking care of routine maintenance more affordable than ever. If you need new tires, our onsite tire center has an extensive selection of tires at competitive prices, and we can install them for you. Most of our tires feature road hazard coverage as well. Like to do your own work? Get in touch with our parts department to get access to a massive selection of OEM parts, which are warranty-backed and don't depreciate the resale value of your vehicle. Whatever your needs, Allen Honda can help! 
Have Questions About Our Windshield Replacement Services? 
If you have any questions about our incentives, or you would like to schedule an auto service near College Station, just give Allen Honda a call at 844-923-0763. We'll answer any questions you may have and book your appointment at our Honda service center. In the meantime, if you're in need of tires, brake service, battery service, or you're due for any other automotive maintenance or replacement, you can expect the same level of quality that you'll get when we replace your windshield.