DIY Halloween Costumes For Kids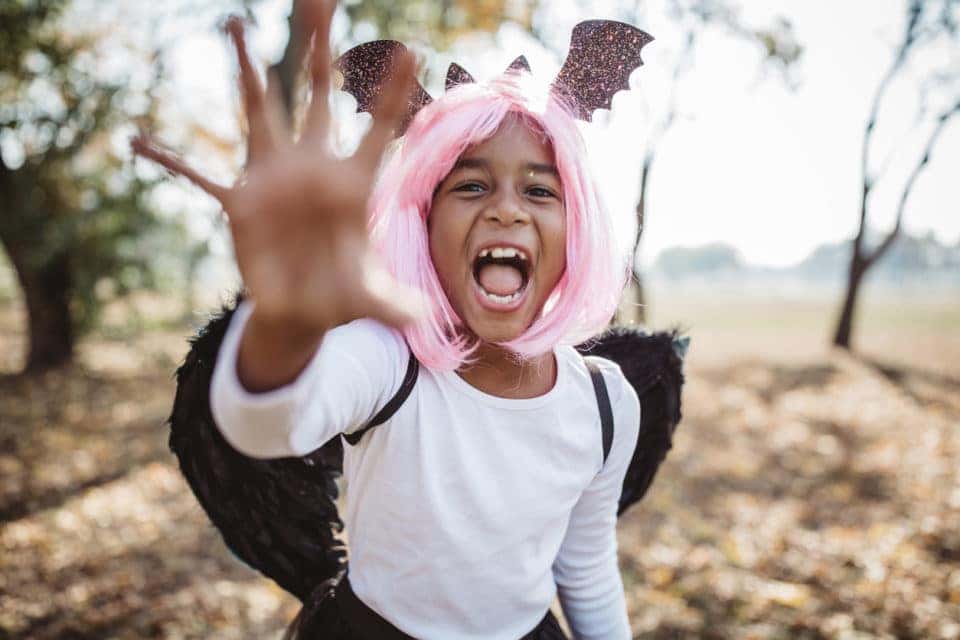 Halloween might still be over a month away, but that doesn't mean it's too early to prepare. If you're making your kids' Halloween costumes, now's the ideal time to begin. Get the details on some fun DIY Halloween costumes for kids. Then, you can whip up a costume or two in no time.
DIY Gingham Witch Halloween Costumes
You just need some black and white gingham fabric, ribbon, and basic sewing skills to make DIY Gingham Witch Halloween Costumes. Once you make the costumes, pick up some witches' hats to complete the look. You can also give your kiddos brooms to hold while walking around the neighborhood. Just give them strict instructions that they aren't allowed to fly on their brooms on Halloween.
Haunted Gingerbread House Costume
Don't worry. You don't have to bake a massive amount of gingerbread to make this haunted gingerbread house costume. Instead, it's made of cardboard that resembles gingerbread. You can customize the haunted house to your liking by adding bats and other scary items. Then, your child can put on the haunted house and go trick or treating around the neighborhood.
Easy No-sew Ghost Costume
The ghosts tend to come out during Halloween, and your kids can take part in the fun with this easy no-sew ghost costume. You just need two yards of white fleece, some sheets of stiff black felt, sewing scissors, and fabric glue to make it. It might be easy to put together, but it's absolutely adorable.
Do-it-yourself Kids' Bat Costume
Bats always give kids a fright on Halloween. Your little ones can be in on the scare with this do-it-yourself kids' bat costume. You don't have to buy special fabric to make this costume. Instead, you can turn an old t-shirt into a bat. You'll need some other items as well, including some kid's sunglasses. It might sound strange, but it comes together perfectly.
DIY Minecraft Play Armor Made With Foam
This DIY Minecraft play armor made with foam is also sure to be a hit on Halloween. It's relatively easy to make, and your kids will look like they jumped from the TV screen into real life. If you want to add to the look, you can get a Minecraft Play Sword as an accessory. That's not a must, though, since this costume is as cute as can be.
You might also like: Take A Hike To Lick Creek Park And Nature Center
Mario and Luigi Costumes
Your kids can also get in the video game action with these Mario and Luigi costumes. You can even add a Princess Peach costume into the mix if you have three trick-or-treaters. While these costumes might not be very scary, kids love them.
Are you already thinking of which costumes your kids will love? Get the materials today, so you'll be ready in ample time. Then, you can go out and make memories with your adorably costumed kids.